Are you looking for iOS App Developer in San Francisco, We're your one stop App Development Company
View Our Latest Work
Your next idea deserves an iOS APP
Are you intending to build a Mobile App and looking for a San Francisco iOS App Development Company? Most people are perplexed about where to start, what to do, whether to choose Android or iOS as a starting platform, do not worry!, business app specialists at Smart It Concepts will guide you through the process of making an iOS or Android app for your start up in San Francisco, Silicon Valley, or your business located in any other part of the world.

We will conceptualize your idea, make designs for it, discuss the project over and over with you, and then polish your idea to come into reality as fine cut diamond that will be praised by your customers, yielding you the well deserved profits. Smart It Concepts is an established iOS Application Developer in San Francisco with our offices conveniently located in Palo Alto, San Francisco. Even if your project needs an international visibility, we have offices in India and Tel Aviv, Israel that can give you our added international experience and can also effectively reduce cost due to the utilization of our employees with brilliant minds from India overseen by our Silicon Valley staff, including graduates from UC Berkeley and Stanford University.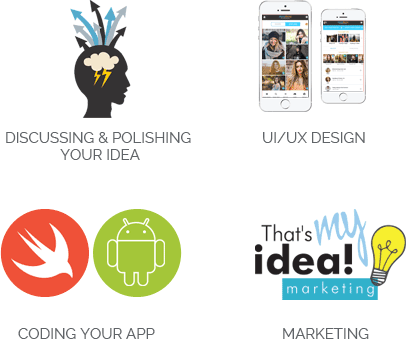 Applications Development Services
Being a top notch iOS Application Development Company in San Francisco, we have the expertise and skills to develop iPhone to iPad app development that are programmed in Swifts for smooth flow and bug-free operation. We build robust iOS app solutions for our clients in San Francisco, Silicon Valley, the Bay Area, Sacramento, Los Angeles, NYC, Boston, nationwide in the US, and global cities like London, Tel Aviv, Paris, UAE, Dubai, and other major cities across the world in all the major business categories: From education to Augmented Realty, Smart IT Concepts has delivered the world's finest iOS applications. We like to categorize our iOS App Development into four major categories
iPhone Application Development
If you have a new idea or would like to get more audience for an existing local or global business, you must get an iOS application for your customers to increase your revenue. We must user-friendly, engaging, and native iOS Apps.
The iPhone Games are one of the most used smartphone apps. Millions of iPhone users enjoy spending their time by playing iPhone games. We develop bug free & user-friendly iPhone game for our clients.
iPad Application Development
Slightly less used than an iPhone, however, the heavy apps with graphics that need more resources can fluently run on iPads. Smart IT Concepts builds some of the most robust and user engaging iPad apps.
iPad games are the most essential part of the iPad users. With new-generation iPads more powerful than ever, rivaling the PCs, iPad users love to spend time playing games on iPads. Our tech-nerds will build that powerful & well desgined iPad game for you to ensure the best user experience.
AREA OF EXPERTIES

iOS iPhone Health & Fitness Apps

iOS iPhone Utility Applications

iOS iPhone NFC Applications

iOS iPhone Geo-Location Apps

iOS iPhone Weather Applications

iOS iPhone Gaming Apps
iOS iPhone Multimedia Apps

iOS iPhone VoIP Applications

iOS iPhone News Applications

iOS iPhone Business Applications

iOS iPhone Android Chat Applications

iOS iPhone AR/VR Apps
Take the Right step, Choose Smart IT Concepts! Here's Why

Alluring Native iOS App Portfolio
With more than 20 completed iOS App projects under our belt, our portfolio speaks for itself about the high quality native Swift iOS apps that we build.

Bug-Free Apps
Your project is in safe hands. We make bug free apps with proper testing in beta stage and also can keep up with all the necessary updates to keep your customers having the smooth user experience.

Latest Development Tools
Old technology and shortcuts (easy way outs) are a No-Go at Smart IT Concepts, we make the apps in native SWIFT technologies with implementation of other languages like NODE.JS, Python, Objective, and more…

Rapid Build Up
We believe in keeping our word. Our projects are finished on time, we can handle the work load and love it. We understand the importance of the launch dates in the business world and will finish the project before the launch date.

Planned Evaluation
Nobody wants to waste valuable time on product that you do not want. Thus, we will thoroughly evaluate your idea, make mock designs, get them improved by you, fill-in any missing links, to ensure that you'll manage your time well and get a great finished iOS app.

Dedicated Developers
We have the capability of assigning you a team of iOS or Android developers dedicated only to your project. Our developers wake up, sleep, and live your project – no distractions – we believe this brings the best results.
Adaptable Engagement Model
After finishing your project, you can hire us for completing a certain task, even use our services on per hour basis.

Adaptable To Changes
We keep up with the Apple store policy changes and will ensure that your project never suffers any loses.
TECHNOLOGY STACK

OBJECTIVE C

SWIFT

Cocoa Touch

XCode

Core Data

SQLite
PORTFOLIO
Smart IT Concepts has proven its excellence in iOS & Android App development in San Francisco, Bay Area, and globally. Here are some of the projects that we undertook.