Get the exposure of Android apps with leading Android App Development Company in San Francisco
View Our Latest Work
Why Android Applications?
Don't have an Android Application? With millions of users, Android market can exponentially grow your customer base and sales.
With over 70% of the smartphone market, Android is huge giant that you need to be a part of. Design your next app and choose Smart IT Concepts as your Android Application Development Company in San Francisco. Not only in San Francisco, we have offices in Palo Alto and Sacramento to ensure that you have a convenient means to communicate with our team of Android Developers and business strategists throughout California.

You're not a California company, don't worry! Android App Development projects are proven to be great start-ups globally throughout the world. Smart IT Concepts has locations in the leading IT Hubs of the world like Tel Aviv, Israel and Noida, India. Not only do these locations ensure us to conveniently meet with our clients that find it hard to travel to Silicon Valley, California, but we also get to utilize the expertise of our Indian and Israeli team developers who are some of the sharpest people in the world. Last but not the least, we can ensure you a great Android Application at some of the best rates in the world by collaborating with our team of designers and developers in India and Israel that work in coalition with our Silicon Valley, California team of Android App Developers.

As a licensed San Francisco, Bay Area, California company with over 10 years of experience, we have a proven record of building some of the most robust Android Apps. Choose us, and we will guide you through the process of designing wire-frames (UI/UX Designs), choosing the right programming language (like Objective C, Swift for iOS, Java), implementing business marketing strategies, and more…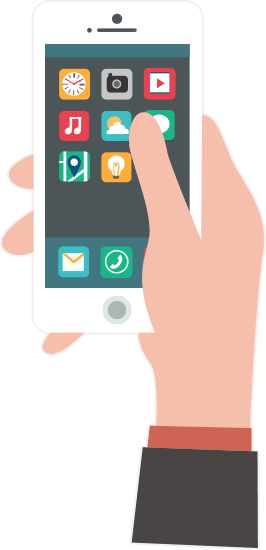 Android App Development Solutions
Android Games development
Android Apps are some of the most downloaded applications in the market today. We'll guarantee Android Game Development with the best graphics, bug-free coding, while keeping the project cost as low as possible.
Android Application Development
We provide the most advanced Android Application Development Services across all major business fields. Only the latest technologies like Native Java Script is used by our Android Developers and SWIFT for iOS to give you that smooth, bug-free app.
AREA OF EXPERTIES

Business Android Apps

Android Chat Apps

AR/VR Applications

Multimedia Apps

VoIP Applications

News Update Apps

Geo-Location Apps

Global Weather Apps

Gaming Applications

Health & Fitness Android Apps

Utility Apps

NFC Applications
Why Smart IT Concepts for your Android App

Alluring Android Portfolio
With around 20+ completed projects of reputable companies, we are confident to plan and build the perfect Android App for your business. Our mission is to increase your business by giving your customers a perfect & smooth user-experience.

Bug-Free Apps
Many companies make Android Apps, however, a few can give your customer a satisfactory user experience by making the Android Apps bug free. Choose us for the bug-free iOS & Android App development.

Latest Development Tools
We believe in keeping the cost of your project low but don't believe in short-cuts & old-technology methods to build your Android & iOS app. We'll build you the native Java programmed Android App at the best rate possible.

Rapid Build Up
Because we have a dedicated team of developers in Palo Alto, San Francisco, India, and Israel, we can cut the development time of your next Android App in half.

Planned Evaluation
You can think of a great idea but we'll help you relate that idea to us, visualize it by making UI Designs, and plan the whole project for you to save you time and increase your profits.

Dedicated Developers
We believe that developers need to live, sleep, and wake-up everyday with your project. Thus, we believe in assigning dedicated team of Android Developers only for your project, to attain the best results for your Android App Development project.

Adaptable Engagement Model
After completing your project, you can hire us on per hour or project bases, we offer multiple solutions for our services.

Adaptable To Changes
With Google Playstore ever-changing policies and technology, we strive hard to stay updated with them. Our team can ensure that your app will always stay in par with the Playstore guidelines when you hire us.
TECHNOLOGY STACK

Java

Dragger 2
Glide

Gradle

Ion

Volley

Butter Knife

Android Studio

ECLIPSE

SQLite

Realm

MYSQL

CASSANDRA
PORTFOLIO
Smart It Concepts has completed many Android projects, a few of which we would like to your share with you are: